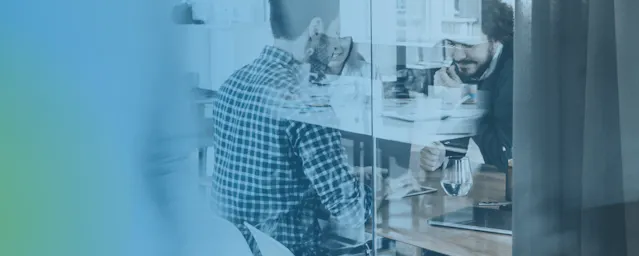 Workshops
We offer a variety of workshop formats to get you on the path to your smart product.
Our workshops:
IN 6 HOURS TO A ROUGH CONCEPT FOR A MINIMUM VIABLE PRODUCT (MVP)
WORKSHOP: IOT & SMART PRODUCTS
In a time frame of 6 hours, we work with you to develop a common understanding of IoT and smart products in your company and then a rough concept for an MVP.
1) Preliminary meeting:
During a 1-hour telephone or video conference with you as the client and, if necessary, one to two other stakeholders (GF, digitalization or product managers)
Brief introduction to the workshopWhich roles and positions should be represented in the workshop? Naming of the people.Understanding of the framework conditions for your smart product: your market and your corporate strategyYour previous experience in the field of IoTExclusive preliminary evaluation for you as the client.
2) Workshop:
The workshop (4 hours plus breaks) can take place remotely, at our premises or at your premises.
Impulse lecture and presentation of our smart products portfolio: Technological overview, our expertise and references (30 minutes)Presentation of typical approaches for smart products in your industry, brief description of your corporate strategy, derivation of the central fields of action (45 minutes)Working phase: What are your expectations or those of your customers? With which product-related smart services can the (customer) benefit be increased? What could your smart products look like? (2 x 60 minutes) Development of two to three rough product ideas (45 minutes)
3) Follow-up:
Review of the meeting in a 1-hour telephone or video conference with you as the client. Preparation of workshop results within three working days.Workshop results as PDF:
Your approaches and ideas for smart productsIdentification of important technological leversSketching of a concept for a MVPWritten summaryI
Your results:
You will receive your individual positioning in the context of IoT - taking into account the market, competition, your corporate strategy and technological possibilities.Against the background of your expectations as well as those of your customers, we will jointly develop ideas for smart products and identify important technological set screws.Building on these ideas, we will outline a rough concept for the path towards an MVP.In the group of participants, a consolidated, harmonized view of the topic of "IoT and smart products" will emerge, specifically for your company. This ensures language capability and thus feasibility in the company. You receive professional documents for internal communication.And last but not least: You get to know us and our approach and can decide whether you want to move forward together with us and take the next steps.
And this is how it could continue:
If you wish, we will be happy to accompany you further on the way to your smart product:Further workshops with executives and employees - in particular our workshop "Your smart product "Deepening the product ideas: In which situations does the customer use your product? Which (further) connected smart services could increase his benefit experience? Using creative techniques, we develop concrete concepts for smart products together with you. We evaluate the economic viability and technological feasibility of the concepts and transfer them into a ranking.For the prioritized product idea, we jointly develop the roadmap towards an MVP.Evaluation of the impact on your organization:The placement of smart products, which is often accompanied by a new business model, can have a variety of repercussions on different areas of your company. We work with you to identify what these are and provide suggestions on how to pick up affected employees as part of a change management process.
Summary:
Result: in a short time, you have a common, tangible approach to IoT and your smart product that you can move forward with immediately.
Your time investment: 6 hours (internally, we incur about 20 hours of time for implementation).
Participants: Representatives from GF, responsible persons from IT, digitalization, organizational development and specialist departments - max. 10 persons.
Costs: 3,900 €
IN 5 SPRINTS TO THE PROTOTYPE OF A MVPS (MINIMUM VIABLE PRODUCT)
WORKSHOP: YOUR SMART PRODUCT
Customer demands are increasing and products must meet these requirements in order to be successful on the market and against the competition. A smart networked product enables data-driven services that can offer customers and users sustainable added value.
The question of how to make one's own products smart with IoT technology or which additional features and services can be decisive on the market is not trivial. Not least because such undertakings often call into question processes and principles that have been successfully practiced in the company for a long time.
In our workshop "Your smart product", we work with you to identify innovation potential for your company, hone it in on the requirements of your customers as well as the technical and economic feasibility, and drive an idea forward to the prototype for an MVP (Minimum Viable Product) - in just five workshop sprints.
In 5 sprints to the prototype of your MVP:
1. your environment:
together we look at your market, your competition, your business strategy as well as the challenge of digital transformation & opportunities through technologies.
2. your customers:
Together we look at your customers against the backdrop of your value proposition: what are their problems, expectations and experiences? This is where initial ideas for smart products will emerge.
3. the business model:
together we work out two to three ideas in concrete terms - always against the background of technical and economic feasibility. Finally, the best of them is prepared for prototype development.
4. prototype development:
the technical implementation is carried out in-house by our smart product experts, including testing on test customers.
5. handover of the prototype for your MVP:
We hand over the prototype of your smart product and jointly analyze the feedback from the test customers. And if desired, we are available for a joint presentation to your management.
Your advantages:
Together with you we work out - against the background of your market, your customers and your strategy - innovative ideas for smart products by applying creative techniques. At the same time, we use our project experience to ensure from the outset that the ideas can also be implemented technically and economically.
In order to be able to offer a results-oriented workshop that is geared to your individual starting situation, we have structured the workshop largely in sprints that we can flexibly weight and string together. Everything is geared towards the goal that you have the promised result in your hands at the end of the workshop.
Within the five workshop sprints, we jointly evaluate and grind out ideas for smart products and take the most promising one to a technical prototyping of your future MVP (Minimum Viable Product). We test this with selected customers so that you can present the result - your smart product - to your management in a well-founded manner.
Our services:
In our workshop "Your smart product" we analyze - after a comprehensive preparation on our part - your market, your products and your competitive situation together and determine your position in the field of IoT against the background of your corporate strategy.
We look at your customers together, interview some "friendly customers" and work out together what problems they have or in what context they use your products.
Then, using creative techniques (e.g. design thinking), we work out together which IoT-based product-related services or features can offer your customers sustainable value.
We support you in finding concrete ideas as well as their concretization, always keeping an eye on the technical and economic feasibility.
For your workshop, we create an "innovative space" in which creative ideas can develop more easily - detached from the processes of your daily business and the cultural "guard rails" of your organization.
We support the workshop with experts from the area of Change &Transformation Management as well as from the area of IoT & Smart Products.
Networking beyond ERP with IoT
WORKSHOP: END-TO-END STARTER KIT
Modern ERP systems such as SAP ERP enable the implementation of efficient, intelligent end-to-end processes with resounding improvements in terms of speed, quality and thus the overall output of business processes, as well as with far-reaching effects on employee collaboration or the organization/company itself.
However, in most companies there are areas that lie outside this process landscape for reasons of non-existent connectivity - such as in manufacturing or logistics. In particular, however, there is often a gap with regard to products that are (already) in use by customers.
But this is precisely where there is often great potential for improving the competitive position and generating additional revenue - for example, through data-driven services related to the product, through improvements to the product itself by analyzing usage data, through digital optimization in the area of service & maintenance such as predictive maintenance, or completely new business models, for example, through pay-per-use offerings.
The prerequisite for such end-to-end digitization scenarios is a functioning data exchange between products in the field and your inventory systems and the targeted use of the data.
Where are the hurdles? Technologically, corresponding connectivity solutions are available in a variety of ways and, from an economic point of view, also conform to the requirements of medium-sized companies. The challenge lies more in finding the specific use case, the real added value and taking into account the organizational impact, i.e. the associated change process.
This is exactly what we have set up our End-to-End Starter Kit for: This is a 2-step offer consisting of two workshops and a data collection directly from your product or machine:
First step:
In a 4-hour on-site workshop we discuss your previous experience and planning in this area, present common use cases in an impulse lecture: e.g., what does the machine building of the future look like or what is technically possible? Afterwards, we will analyze your relevant business processes together with you, identify possible weak points and breaks, and prioritize a use case for further action. On request, we can also bring a standard gateway to this meeting on loan, which we can use to connect one of your "devices" (product, machine, etc.) located outside your ERP process landscape for initial insights. With this gateway, data will be collected in a period of about 2 weeks.
Second step:
In an on-site workshop we take a look at the collected data together and develop suitable use and business cases as well as a possible implementation roadmap based on the available data set and your domain knowledge.
Result:
As a result , you will receive a comprehensive insight into digitization and its possibilities as well as concrete use cases and a roadmap that you can evaluate internally in the team - as a secure basis for decision-making for the next steps.
Your Contact: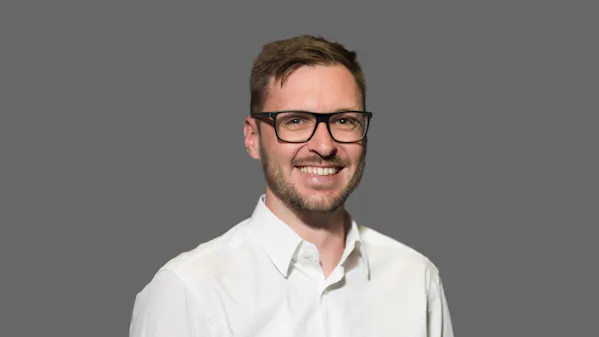 Andreas Lehner, MSc
Head of Innovation, Sales
blue-zone GmbH
T +43 7236 78500-25